Arrival on car | Arrival on public transport | Proposals for journey by train & bus from Stuttgart | Arrival on bicycle

Where's Neresheim?
Neresheim is situated in south-west Germany, in the 'Ostalbkreis', near Aalen, 500 meters above the sea level. No idea where this is? OK, it's about 80 km east of Stuttgart, in the north-east of Ulm and south-west of Nuremberg.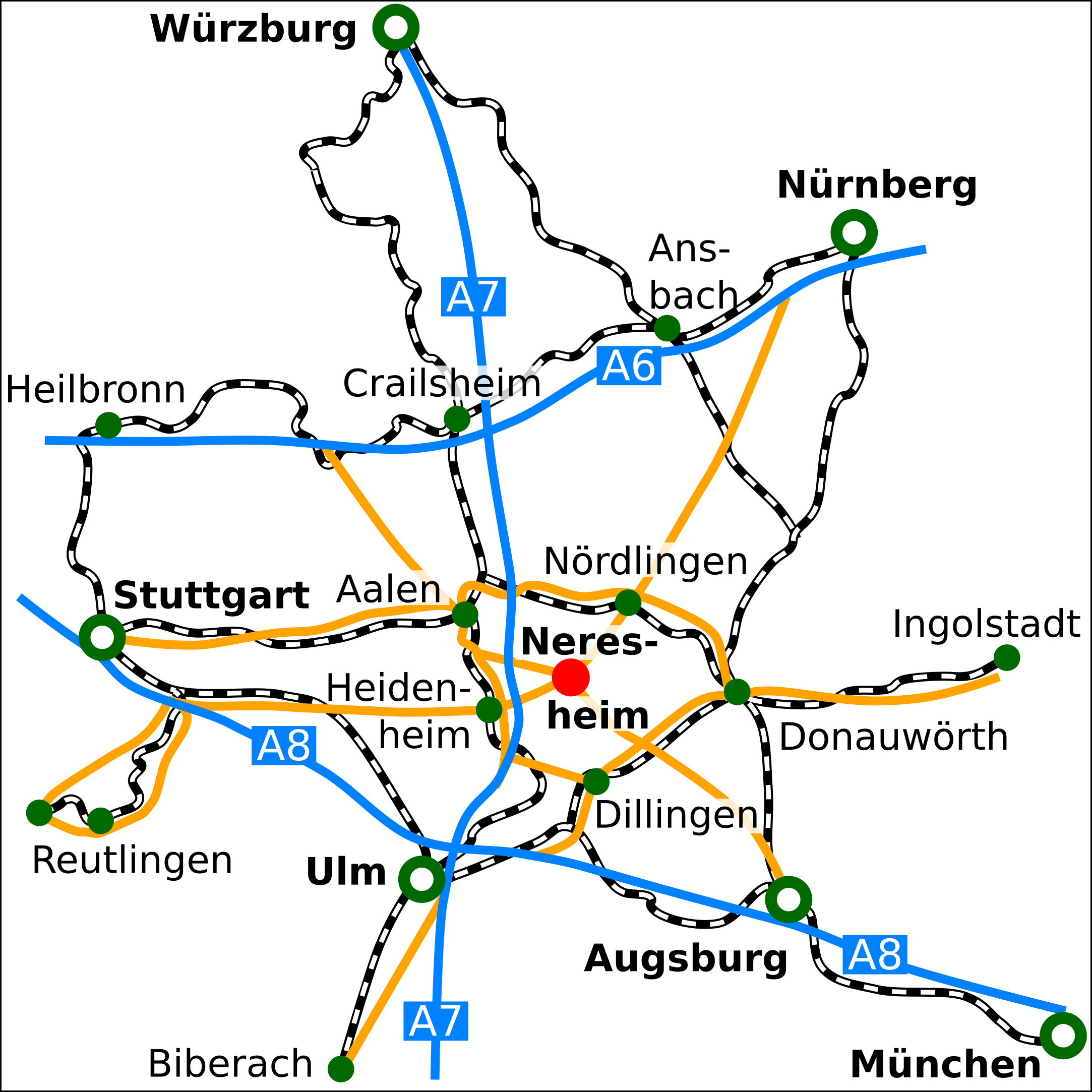 drawing: HMB / Hannes Ortlieb
How can you get there?
---
By car: destination for your GPS: Dischinger Str. 11, 73450 Neresheim
Click here for route planning in Google Maps
Neresheim isn't far from highway (Autobahn) A7 in the Würzburg - Ulm section. Coming from the north, exit 115 Aalen-Oberkochen makes sense, from the south exit 116 Heidenheim-Nord/Nattheim, then following the signs to Neresheim. The station is, coming from this direction, on the opposite end of Neresheim, directly beneath the main road.
From Stuttgart use federal road B29 until Aalen-Unterkochen, then by taking road L1084 it's about 23 km to Neresheim.
From Göppingen and Geislingen it's easiest to use federal road B466, which passes nearby the station.
From Nördlingen use also federal road and then just turn left before entering the centre.
From Dillingen via Dischingen using road L2033 you can already change to the train at Katzenstein station next to lake Härtsfeldsee. There's a parking lot directly opposite the station or use the one opposite the lake. In other case just continue using this road until you enter Neresheim, then just turn right to the station.
The closest battery charging station, offered by has.to.be, for elektrical cars is at the parking lot of the Neresheim monastry just up the hill above the station: here on Google Maps.
On the Neresheim station square, you can also find a recreational vehicle spot which offers fresh water and electricity for four vehicles.
---
Public transport: final stop: Neresheim Post
Neresheim is part of the transport network Ostalbmobil and for this reason also part of the bwTarif transport network (e.g. Baden-Württemberg-Ticket) and Metropolticket from Stuttgart.
By train, it's the easiest way to arrive via Aalen, then take the bus to Neresheim. Departure is on bus platform 7 of Aalen ZOB directly opposite the railway station building. Final stop is Neresheim Post, then it's just a few steps to the railway station and the museum.
Timetables of bus lines 106/108 (only Monday to Friday) or 110 (only Saturday+Sunday) [operator: Beck+Schubert] between Aalen and Neresheim can be found here..
Please note: Baden-Württemberg-Ticket and Metropolticket are not valid on DB InterCity (IC) trains!
Fares 2022 Aalen - Neresheim:
Single trip adult
4,70 € (on Saturday, Sundays and holidays only 1,00 € with the

OstalbMobil 1-EuroTicket

)
Single trip child (incl. 14 years)
3,10 € (on Saturday, Sundays and holidays only 1,00 € with the

OstalbMobil 1-EuroTicket

)
Group ticket (from 10 people)
2,35 € (per person)
From Heidenheim there are also bus lines, but only with few single trips per day and not daily. From Heidenheim to Neresheim, it's line 52 (operator Süddeutsche Verkehrslinien GmbH, SVL), from Heidenheim to Katzenstein (stop Katzenstein Härtsfeldsee) it's line 50 (Heidenheim - Dischingen - Demmingen, also operated by SVL). Timetables can be found here.
---
Journey proposals by train & bus from Stuttgart:
From 2022 we are part of the bwegtPlus partner program: if you have a valid bwtarif ticket for the day you get a discount at our place.
Use the dwell time between train and bus to visit the station restaurant, the railway museum on the second floor of the station building or watch the steam loco getting new water. From the Katzenstein station, it's only about one kilometer to a historical Staufer castle or you just take a walk to the kiosk on the other side of the lake.
We can't grant the validity of the timetables below, please inform yourself before the start of the journey about possible timetable changes!
Arrival


Departure


Stuttgart Hbf
09:47 / 10:08
11:47 / 12:08
MEX 13 / IC
Katzenstein
15:25 (P6)
17:05 (P8)
18:25 (Tp 14)
steam train / Tp = railcar
Aalen Hbf
10:50 / 10:56
12:50 / 12:56


Neresheim HMB
15:49*
17:29*
18:49
*non-granted connection, bus won't wait!
Aalen ZOB
11:15
13:15
Bus 110
Neresheim Post
15:57*
17:57*
19:57
Bus 110
Neresheim Post
11:57
13:57


Aalen ZOB
16:45
18:45
20:45


Neresheim HMB
13:10 (P3)
14:50 (P5)
steam train
Aalen Hbf
17:02 / 17:07
19:02 / 19:07
21:02 / 21:37
IC / MEX 13
Katzenstein
13:30
15:10


Stuttgart Hbf
17:53 / 18:09
19:53 / 20:09
21:53 / 22:39


---
By bicycle
Neresheim can easily be reached by bike from nearby - just let your car stay at home and explore the fantastic nature of the Härtsfeld on the way to us! The bike network around Neresheim offers different types of difficulties, starting from the nearly flat asphalt paved way up to the washed out way through the forest with adventurous charakter and nice views. We transport your bike on our trains for free (as long as there's space), if you want to integrate us into your trip across the Härtsfeld. Just follow the signs of bike ways towards Neresheim, the Grüne Pfad Härtsfeld (green path Härtsfeld) follows our line through the Egau valley and along the Härtsfeld lake.

On your way to us, you can also explore the non-reconstructed parts of the Härtsfeld railway and sometimes directly use the former line, so e.g. from Aalen to the former tunnel before the station Waldhausen-Glashütte, from where one has to use usual roads across the landside to get further towards Neresheim. Due to the climb up the Alb, this version is one with the steepest gradients along with the version from Nördlingen.
The version with the lowest gradients is the one from direction of Dillingen and Lauingen until Dischingen and then just besides the former line towards the Härtsfeld lake. Here you can find a tour proposal on komoot.
Also kind of flat and with a number of quite good equipped bike ways is from Giengen (Brenz) via Ballmertshofen to the Härtsfeld lake.
A thing in between is the bike way from Heidenheim via Nattheim and Steinweiler, here one can use an asphalt paved way always not far away from federal road B 466, but with enough distance to it. A bit more apart of the big roads, but a little steeper is another way via Schnaitheim (alternate start at its railway station), the Möhn valley, Kleinkuchen and Steinweiler, then continuing along the valley towards Neresheim or just again across the hills and Auernheim to Neresheim, where one can have a picturesque view at Neresheim with its monastery.
The railway stations Oberkochen, Heidenheim and Giengen (Brenz) are stops of IRE line 50 Aalen Hbf - Ulm Hbf and therefore are rapidly connected every two hours from both directions. Further stations along the Brenz railway line Aalen - Ulm are all stops of the line HzL RS 5 which operates every hour. On all trains, all public transport tickets are valid and bike transport is for free except on working days between 6 and 9 a.m. as it is in whole Baden-Württemberg except for long-distance trains. From 2022 we are part of the bwegtPlus partner program: if you have a valid bwtarif ticket for the day you get a discount at our place.