Toilets | Advices for mobility impaired passengers | Transport of bicycles, buggies etc. and of dogs
Ticket shop
Tickets should be bought before the start of the ride in our ticket shop, because we lack of time to sell tickets on the train on days with well-demanded trains.
Due to logistic problems - as we do everything unsalaried - we can't offer pre or online sale with ticket shipment by mail. For this reason, reservations are only possible for groups from 16 people. Actually, we also need to register passengers on site due to Corona regulations. Thanks in advance for your understanding and patience, depending on demand, you may have to wait.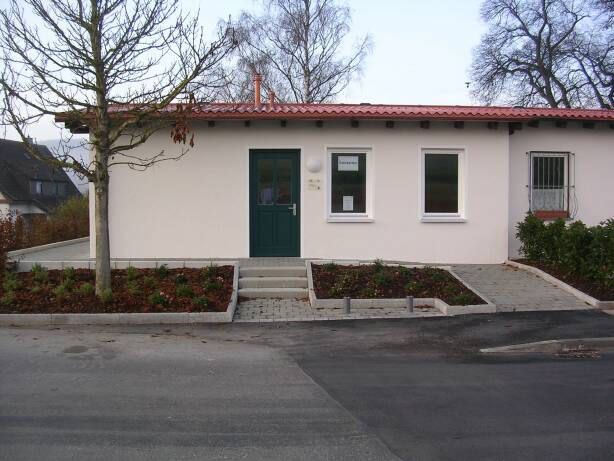 Tickets are available in Neresheim in our ticket shop in the station building extension. There you can also buy souvenirs and post cards.
Passengers accessing our trains at the stops Steinmühle, Sägmühle or Iggenhausen and don't have a ticket yet can get theirs at the conductors on the train. Please give a note to the staff before you access the train.
At Katzenstein station you can also buy tickets at the train staff. Please consider, that we need some time after arrival for shunting the traction unit and to unload buggies and bicycles.
Toilets
Toilets for our passengers can be found on the end of the station building extension, right around the corner of the ticket shop.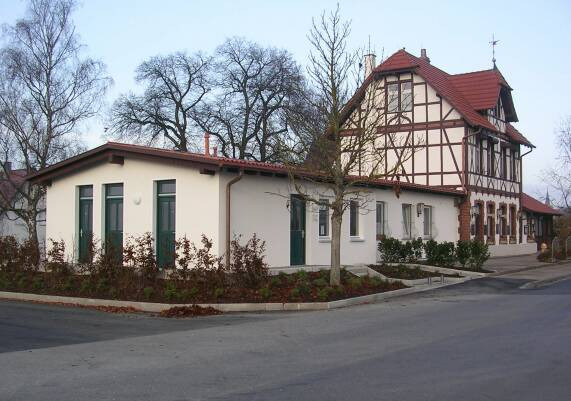 Just behind the three doors, there are toilets for our passengers. Male toilet on the left, Female toilet on the right and in the middle for mobility impaired persons. It's accessible by a small ramp in front of the ticket shop. The key for the toilets will be provided in the ticket shop.
The trains itself don't offer toilets, what shouldn't be a problem due to our short travel times.
| | |
| --- | --- |
| The station building extension is owned by the town of Neresheim and has been subsidized by the European Union and the land of Baden-Württemberg while the renovation of the station building and the station area. Therefore, a little plaque can be found besides the ticket shop's entrance. Financing wouldn't have been possible for sure without subsidies. | |
Advices for mobility impaired passengers
The transport of mobility impaired passengers is complicated on the historical cars by experience, but not impossible. Our train staff helps to access and exit and wheelchairs and walking aids will be stored in our freight wagons and served again at exit.
People, who are not or rarely able to change their seat or bigger groups should be announced, so that we can add the railcar trailer to the passenger train, which offers broad doors and a big platform on the entrace area which is more suitable in such cases.
| | |
| --- | --- |
| Door width of railcar trailer TA 101 is about one meter, train staff helps to climb the steps. | |
Transport of bicycles, buggies etc. and of dogs
| | |
| --- | --- |
| To transport bicycles we equipped our wagons Ow 301 and 303 with bicycle stands. | |
| | Up to 12 bicycles can be transported in the bicycle stands. If there are more, we'll find a soluation for sure. |
| And the case to transport more than 12 bikes already occured. On July 6, 2002, there were nearly 40 cyclists at once and wanted to take a ride with us. Within 5 minutes, all bikes were stored, whereas about 30 on the Ow 301 and the other 10 in freight wagon Gw 153. This looks like that.... | |
Buggies will be stored in our closed freight wagon Gw 153 or 155. There's unfortunately no space on the passenger cars. Please wait for the train statt to load your buggies and bikes on the wagons, it's only their duty. Transport of buggies and bicycles is included in the contribution to expenses and won't be charged extra. This is also valid for bike trailers, wagons, prams, wheel chairs, walk aids etc.
Dogs are also free on our trains as long they are no threat to other passengers. Fighting dogs without muzzle are not allowed on our trains to respect the well-being of other passengers.